CAN YOU BE THE WORLD'S FASTEST TRIGGER?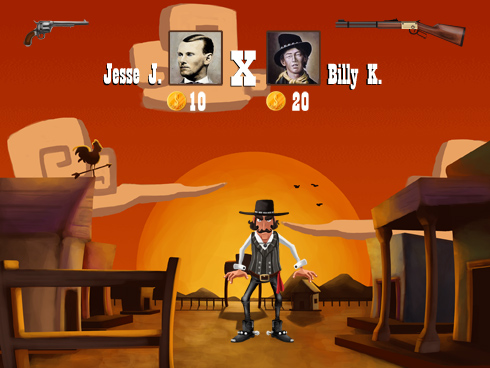 THE GAME
World Wild West is the first mobile social game from QUByte interactive. A casual, quick and easy game where the challenge is to become the fastest and most feared gunslinger in the world!
With first-person perspective, challenge your friends and strangers to a duel of life and death and see who is the fastest on the trigger!

PRACTICE YOUR SHOT!
Before facing the challenge of a real opponent, you can practice in three different scenarios to accumulate gold. With it you can buy new weapons and customize your character!




CHOOSE YOUR GUNS!
To stay on top you need to be well armed and ready for anything. Avance among your challengers buying new weapons that improve your response time in the duels!
8 DIFFERENT WEAPONS




SHOW UP YOUR UGLY AND BAD FACE

!

Setup your character the way you want. There are numerous options for coats, boots, hats, mustaches and many more. Remember that your cowboy should put fear in the hearts of opponents!




BUILD YOUR REPUTATION WORLDWIDE!
Put your name in the ranking of the best gunslingers and become the most wanted man in the world or die trying! If you prefer, run away and join the club of cowards...